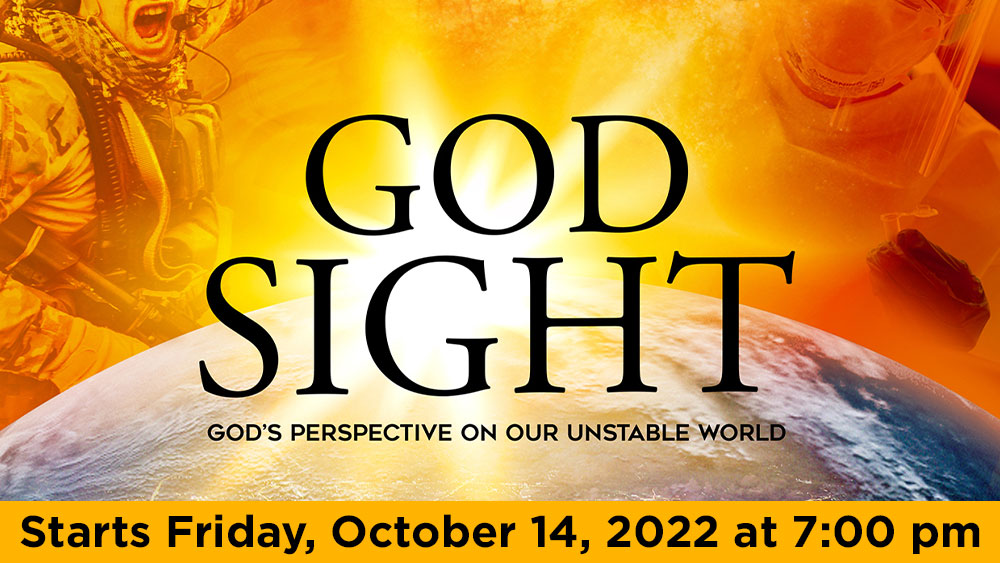 Date
Oct 14 - 16 2022
Expired!
GodSight Evangelistic Meetings
GodSight
God's Perspective on our Unstable World
7pm Nightly (not meeting on Mondays and Thursdays)
Starting Friday, October 14th @ 7:00pm
With Pastor Troy Brand
Prophecies from the Bible are unfolding right in front of our eves Government Chaos. Natural disasters War and sickness across the planet. Crowing anxiety and personal struggles. What can we learn about God through these events and do they point to a critical change coming in the near future? Learn to decipher the prophecies of the Bible and gain a new glimpse into the heart of Cod. This seminar is designed for anyone curious about the prophecies of the Bible or concerned by personal and current world events.
Friday, October 14th at 7pm – Who Does God Say will be Saved?
Saturday, October 15th at 7pm – How to be Ready for the Second Coming
Sunday, October 16th at 7pm – Did God Lose Adam?
Other Topics
What you need to know about the Law
Two Reasons Right Worship Matters
How to be Right with God
Who Has Your Heart?
How to Make it through the Judgment
Am I in Babylon
How to have Peace Right Now
The Consequences of False Worship
Is Grand Momma in Heaven
A Reason to Rejoice
How to Maintain Hope in this Unstable World
For more information and to reserve seats visit RelevantSeminars.org/OrchardPark or call 423 200-4946. Pre-reaistration not required. Walk-ins welcome.